Sustainability Column
What are some important terms you want us to know?
Sustainable living—just like Mother Nature herself—has many layers, and some of these layers are more complex than others. It is easy to see the benefits of going on a nature walk or avoiding littering, but it is harder to understand more complicated aspects of earth science like greenwashing campaigns or carbon footprints. To understand these topics, we must first know the vocabulary involved. Therefore, this month, we will familiarize ourselves with some words we might see along the way in our journeys to understand and protect Mother Nature.
Sustainability: the use of materials and resources in a way that protects the present and future of our planet and its people.
This term is what my office at OSU revolves around, and it is also the most abstract term of this list. There are many ways to define sustainability; the definition I used above is simply my personal favorite because of how broad it is. Historically, sustainability has been focused on three areas: society, the environment, and the economy. While these topics may seem broad, there are still components of sustainability that get left behind in these three areas. For example, society tends to look at interactions with other people, but what about interactions with ourselves? That is why I love this more generalized definition—everything becomes applicable to sustainability in this definition, which I think is the most accurate way to look at it.
Greenwashing: occurs when a company uses misleading marketing to make their business appear sustainable or eco-friendly even if it isn't.
Because sustainability has become more popular over the years, many businesses know that they will get more customers if they look like they are helping the planet. Unfortunately, that does not mean those companies actually Enter the phrase "greenwashing." As we discussed earlier, sustainability can be complicated. Some companies will try to take advantage of this by misleading us into thinking they are helping Mother Nature when, in reality, they could not care less. It is simple to spot a greenwasher by noticing some of the flashy terms they use. For example, we know plastic bags remain almost perfectly intact for hundreds of years in the trash. "Compostable" or "biodegradable" products sound like a sustainable solution, but this only matters in certain conditions. Compostable materials fully break down into natural and non-toxic components, but only if they are composted. On the other hand, biodegradable materials also break down in special conditions, but this break-down may never complete and it may still take dozens of years. If you are interested in specific companies that have been called out for greenwashing, here is an article from Earth.org that covers this.
Greenhouse gas: gases like carbon dioxide, methane, nitrous oxide, and others that are especially good at trapping heat within the atmosphere
The U.S. Environmental Protection Agency (EPA) informs that these gases are frequently released from industrial actions like fossil fuel use and deforestation. The EPA also explains that because these gases have such a knack for trapping heat, decades of meteorological data show consistent temperature increases and dramatic weather events across the globe. In other words, greenhouse gases are not necessarily our friend. The amount of greenhouse gas emissions we are personally responsible for is known as a carbon footprint. A lot of the companies guilty of greenwashing are the most responsible for greenhouse gas emissions, but we can mitigate our carbon footprint through small actions like driving less when possible, carpooling, and using efficient energy practices like those we discussed last month here on "Dear Mother Nature."
It is important to note that some aspects of sustainability can be scary, but the goal of this column is never to guilt us into feeling like Earth's problems are our fault. This column serves to educate us so we may all reach a consensus on the importance of nature so we may experience its beauty for years to come.
"Dear Mother Nature" is a monthly column written by Gabby Barber. Written in a format like that of the infamous "Dear Abby" columns, this is a space to answer questions about sustainability and environmental stewardship. If you have a question you would like answered in "Dear Mother Nature," please send it to Gabby at gabhriel.barber@okstate.edu. For more tips and knowledge about sustainability, feel free to visit sustainability.okstate.edu online or follow the Oklahoma State University Sustainability Office on all social media platforms @OSUGreen.
---
Recent Successes in the OSU Office of Sustainability
Recent Strides in Sustainable Development Goals
In April 2021, OSU made university headlines after earning global attention for our contributions to the United Nations Sustainable Development Goals. As noted in the Times Higher Education's 2021 impact rankings, we ranked 8th in the country and 85th in the world for our programs and operations that achieve SDG goals. Of the 17 total goals, OSU submitted 164 pieces of work evidence related to 6 of them:
Zero Hunger (goal 2)

Good Health and Wellbeing (goal 3)

Clean Water (goal 6)

Clean Energy (goal 7)

Sustainable Cities and Communities (goal 11)

Partnerships for the Goals (goal 17)
OSU earned these rankings through a robust network of partnerships and programs:
Research on agriculture and food security

OSU Dining food waste diversion

OSU's Water Resources Center

Citywide transportation, development, and planning

Etc.
Click here to read our other article on CampusLink with more on this achievement!
AASHE STARS Progress
In our 2020 STARS report, based on data from fiscal year 2019, we landed in the silver category with 55.56 points. This is a 3.64-point improvement from our score in 2018. Our scores increased in 8 of the 18 categories.
Congratulations to OSU's faculty and staff for this progress over the last three years, especially in the "research" and "innovation & leadership" categories! The remaining 10 categories in which we lost points will act as areas of improvement for the next report:
Curriculum

Campus engagement

Buildings

Food & dining

Grounds

Purchasing

Transportation

Water

Diversity & affordability
Social Media Growth
In May 2021, our office ceased activity on Snapchat and Pinterest after our analytics indicated that posts on these platforms were not making much impact. We used this as an opportunity to increase the quality of our content on Facebook, Instagram, and Twitter, especially Instagram. Recent data shows that we have been successful! We had 1.8 times more engagement on Instagram than on both other platforms combined. Instagram also had our most popular post of 2021: a photo during Homecoming Week that got 104 likes. Thank you to Ariel Scholten, our social media manager, for putting in so much hard work to meet these goals!
Financial Savings
In September 2021, OSU Headlines bragged on Energy Management again, this time
for reaching a new milestone in financial savings. Thanks to the sustainable culture of the university, OSU has surpassed $80 million in savings in the energy management program. This record comes just as 15th campus building wins the $1 million Energy Reduction Award. These feats would be impossible without the hard work and dedication of OSU energy managers!
Our spending habits benefit our STARS credit, too. We got 1/3 points for sustainable procurement and 0.23/1 points for our office paper purchasing. In this category, we scored 0.9 points higher than we did in our last report while also spending $57,751.44 less on paper! Even better, we spent $7,322.54 more on paper containing 90-100% post-consumer recycled, agricultural residue, and/or FSC certified content.
Future Plans in the Office
As we reflect on the success of this past year, we are even more excited for future successes! We have many plans for future projects in the office, including:
A Biodiversity Garden
We are collaborating with Landscape Services to install a biodiversity garden on the southeast side of Physical Sciences. This garden, which will be a part of the broader Native Corridor, will be partially funded by a Green Student Initiative (GSI) grant. We are currently in the budgeting phase!
Campus Recycling Magnets
Also funded by a GSI grant, we are ordering magnets for students to easily remember what is accepted in OSU Recycles and ResLife Recycles programs. These magnets will look like our energy savings magnets!
Earth Month Events
We want to spread Earth Day's importance through a larger, more impactful celebration during the entirety of April.

Thank you for all you do! Happy 2022!
---
Can I save money by helping you?
Because the Earth is so large and complex, it makes sense that there are many different ways to define and practice "sustainability." I like to think that anything that promotes healthy ecosystems and happy people is sustainable, but this is still quite broad. There are lots of trends and companies that have made sustainability more popular. Unfortunately, most of these trends and products are not affordable enough for most of us to fully support. On the other hand, there are countless other ways that being sustainable actually saves us money! Here are some examples.
Being friends with your thermostat will help your power bill.

I'm sure that by now "Dear Mother Nature" readers know all about energy efficiency, and here is where it pays off-–literally! Almost half of the average household's energy bill is spent on heating and cooling the home. Although there is some academic debate regarding exact savings, you're likely to save money if you employ a sustainable thermostat routine. If you have a manual or basic programmable thermostat, it is best to sleep in colder temperatures regardless of the season. Also, you can turn your heater or A/C down or off when you leave the house. If you have a more advanced smart thermostat, you will have more options to specialize your home temperatures, which will increase your savings. Taking advantage of clothing layers and fans will goes a long way, too!
Buying less means less spending.

Okay, this one seems like a no-brainer, but it's a good reminder! With the convenience of online shopping and a plethora of physical stores, we can buy almost anything we want whenever we want. It's easy for us to get carried away with this luxury and end up throwing away our purchases. While this can mean finding out that the top that looked fabulous at the store gets unworn at home, it can also apply to food. The North American United Nations Environment Program reported that 30-40% of food in America goes uneaten. This means every person wastes about 20 pounds of food every month. Ouch! Perhaps we could benefit from conducting an audit of our spending and analyzing what we actually need. If we find that we would be better off with a more frugal budget, the savings will come naturally, and Mother Nature will thank us. Besides, "fast fashion" in the form of cheap, mass-produced clothes often comes from child labor and other forms of human exploitation.
This last tip is intentionally vague because I believe it can be applied to anything! This entire article can be boiled down to this: be aware of the resources you use. Money is a resource, as is electricity. So turn off the lights and water when you're not using them and try to avoid being wasteful. Be kind to yourself and remember that all that matters is that we try.
"Dear Mother Nature" is a monthly column written by Gabby Barber. Written in a format like that of the infamous "Dear Abby" columns, this is a space to answer questions about sustainability and environmental stewardship. If you have a question you would like answered in "Dear Mother Nature," please send it to Gabby at gabhriel.barber@okstate.edu. For more tips and knowledge about sustainability, feel free to visit sustainability.okstate.edu online or follow the Oklahoma State University Sustainability Office on all social media platforms @OSUGreen.
---
Written by Gabby Barber
If you're familiar with the concept of sustainability, you've most assuredly heard the phrase "reduce, reuse, recycle." This saying represents the proper order for waste reduction. It starts with reducing consumption overall; then finding a way to reuse or repurpose an item; then recycling that item if it has reached the end of its life cycle; and, finally, sending it to landfill if it cannot be recycled any further. This is especially important in the fashion industry, which is often dominated by fleeting trends and exploitative practices such as child labor and sweatshop models. To make matters worse, a significant amount of these clothes sold en masse are made from synthetic materials, namely plastics or petroleum. While in the washing machine, it's common for these items to shed polyester microfibers that enter our waterways as microplastic.
Simply put, it is best to avoid buying new clothing from outlets that rely on fast fashion and mass production. The most sustainable alternative would be making clothes from scratch or upcycling what's already in your closet. However, for people who struggle with creativity or find themselves in a time crunch, there are some other sustainable options. Besides, who doesn't have fun browsing through aisles of hangers every once in a while? Thrift stores and consignment stores provide great opportunities to shop second-hand. Not only is this avenue typically cheaper than buying new, but it also keeps clothes in circulation longer, making the resources it took to produce them more efficiently spent.
Now, what if there was a thrift store that also supported a cause that you found important, like providing support for victims of interpersonal violence? While such a store sounds too good to be true, it exists right here in Stillwater, and it's called the Thrifty Butterfly. This "upscale resale store" benefits victims of crises related to childcare, sexual and domestic assault, and stalking as a part of a broader organization called Wings of Hope Family Crisis Services. Wings of Hope educates others on these avenues of violence and also provides confidential services to help current victims. As a non-profit, they "greatly benefit" from interns and volunteers. Applications for such positions are on their website. If you or someone you know needs their help, please call their 24-hour hotline at 405-624-3020.
So how does the Thrifty Butterfly do so much good without compromising style? By receiving donations from others, which they always need more of. You can help by dropping off clothes, jewelry, and handbags at one of their three locations:

3800 N. Washington, Stillwater, OK 74075
302 N. Main, Stillwater, OK 74075
314 N. 6th St, Perry, OK 73077
The next time you see a cute new top online, try to think twice about what effect purchasing it will have. Is there a more sustainable option to get something similar or even better? Is there a business you could support that helps others at the same time? These questions, while at times inconvenient and uncomfortable, can help us become more sustainable shoppers and citizens, overall.
Thankful for Hope: Meet the Thrifty Butterfly
---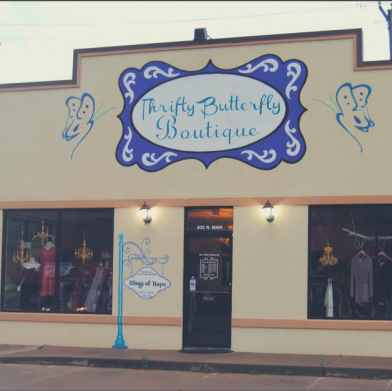 ---
OSU's Sustainable Students: Meet Emily Geest, Pollinator Researcher
---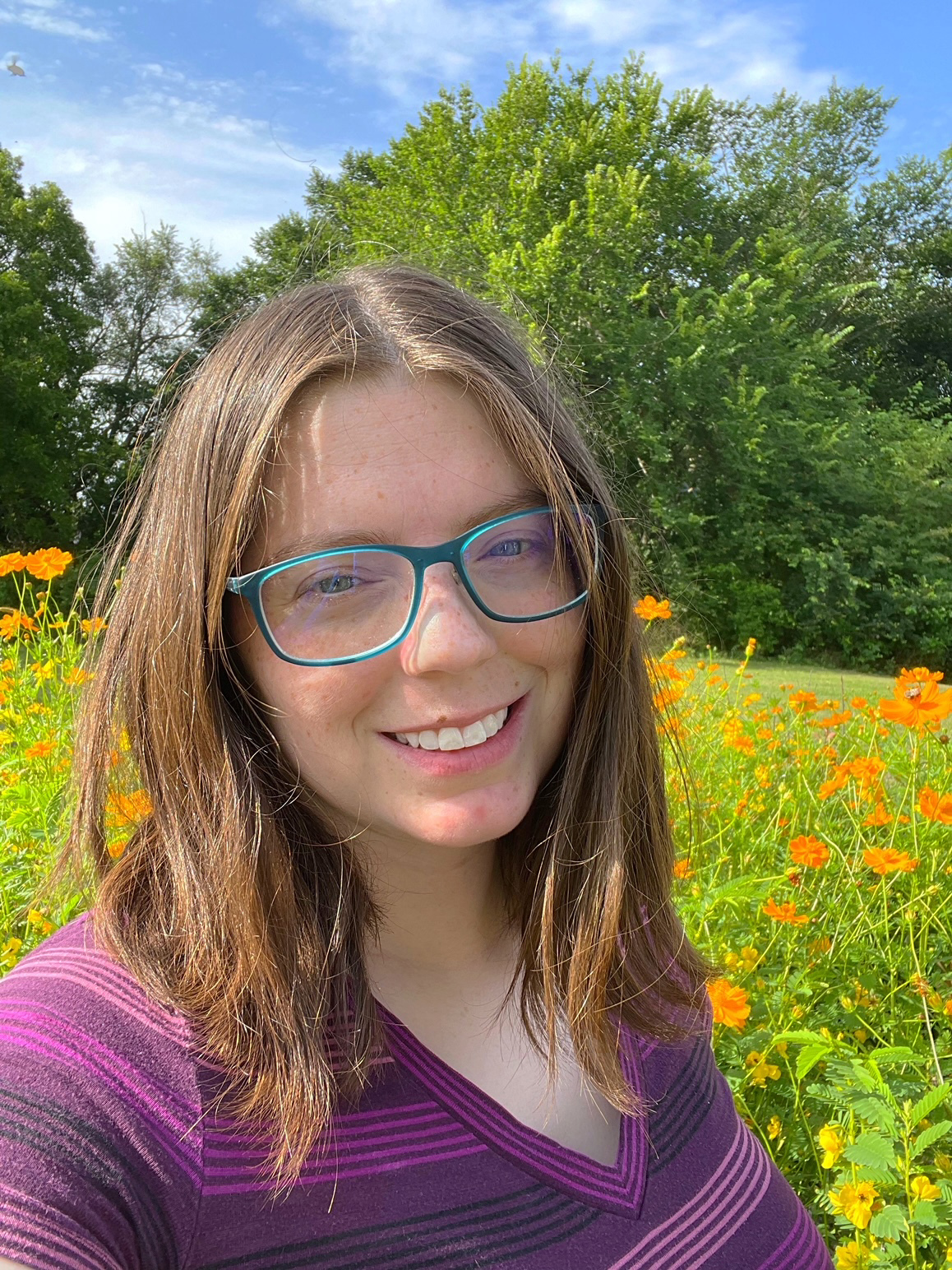 Written by Gabby Barber
Emily Geest has been working with Dr. Kristen Baum in the Department of Integrative Biology within the College of Arts and Sciences. This past spring, Emily was awarded a grant through the OSU Student Government Association's Green Student Initiative, a program that funds student projects that make OSU more sustainable. Emily's grant will help her implement her 17-page plan to get OSU certified as a Bee Campus USA. This is a national certification that recognizes universities for their pollinator-friendly practices. Her plan spans five years and incorporates workshops and other learning opportunities to teach the campus and Stillwater communities about pollinators and why we need to protect all pollinators. This is important to her because she and her lab are "always looking at different ways to do outreach with the community, whether it's teaching them about bumblebee species or doing monarch tagging events," and this certification will allow her to do just that.
When thinking about bees, what do you think of? It's common to think of honeybees, but did you know they aren't even native to America? Emily told us that it's the native bees that are suffering most from habitat loss, inappropriate pesticide use, climate change, and more. She elaborated on this when we asked her what she wishes all students knew to be more sustainable. She said that "we actually have thousands of native wild bees that pollinate wildflowers that make up the base of the food chain. They're very important, but they kind of get overlooked."
Is there a way to help these native bees? Yes! Emily said that if you have a yard, you can turn part of it into a pollinator-friendly space by limiting pesticide use and introducing plants that attract pollinators such as milkweeds, goldenrods, asters, and sunflowers.
With such sustainable ideas, we were curious to know Emily's thoughts on sustainability, overall. She said she looks at everything "through the lens of a pollinator ecologist," so she feels greatly inspired to make our land useful and productive for the species that navigated the earth long before we started managing it.
Although Emily is almost done with her degree, her sustainability journey certainly won't end here. "I really want a career that helps combine teaching, science outreach, and research," she said. "As long as I can keep doing a little bit of it all and it's connected with insects and pollination, I'll be happy."
Do you know a student at OSU who belongs in this section? Let us know, and we would love to highlight them!
---
Do my actions make a difference?
You may have heard that 100 energy companies are responsible for 71% of the world's emissions of greenhouse gases, also known as GHGs. GHGs are powerful gases like carbon dioxide, methane, and others that trap heat in the earth, and they come from a wide variety of sources. With statistics like these and the fact that the world is so large, it's easy to wonder if it's worth it to try and improve Mother Nature. Here at OSUGreen, we think yes! Here are 2 reasons why.
Humans are a highly social and observant species.
People are extremely social and malleable to the actions and opinions of others. From friendly advice to peer pressure, we are always making decisions based on who we surround ourselves with, even if we don't explicitly realize it. If you start adopting more environmentally friendly habits like those previously discussed in this column (turning off the lights, reducing waste, washing laundry in cold water, etc.), it is likely your friends and family will notice. As you share your habits with your loved ones, they could even adopt the same habits, themselves. In this way, the actions of one person have multiplied as a direct consequence of human behavior. It doesn't get easier than that!
The effects of human communication go beyond our social circles, too. We could support political causes, write to our representatives, and more. Simply put, in the words of Katherine Reich, associate director of the UCLA Center for Climate Science, "collective action to reduce carbon emissions is absolutely necessary…but collective action can't possibly happen if individuals throw up their hands and decide not to pitch in."
We have TONS of greenhouse gas emissions to work with—literally.
The United States is the world's third largest GHG-emitting country. Each US citizen contributes 19 tons of greenhouse gas emissions. This is equal to the emissions of 12 cars. For more context, that means that Americans emit 115 pounds of greenhouse gas emissions each day. In other words, we emit so many gases, pretty much any choice we make to reduce them will make a difference. Heating and cooling systems make up a significant portion of our GHG emissions. In that case, adjusting our thermostat to match the outdoors when we are out of the house would greatly reduce our 115-pounds-per-day rate. For more tips on reducing GHG emissions, read here: https://www.nps.gov/pore/learn/nature/climatechange_action_home.htm.
For more details on the topic of this month's column, read here: https://crowdsourcingsustainability.org/climate-change-can-one-person-really-make-a-difference/ and https://www.bustle.com/p/can-one-person-make-a-difference-with-climate-change-experts-insist-your-voice-matters-18687241.
"Dear Mother Nature" is a monthly column written by Gabby Barber. Written in a format similar to that of the infamous "Dear Abby" columns, this is a space to answer questions about sustainability and environmental stewardship. You can find her column printed in newspapers like the Oklahoman and Red River Sun. If you have a question you would like answered in "Dear Mother Nature," please send it to Gabby at gabhriel.barber@okstate.edu. For more tips and knowledge about sustainability, feel free to visit sustainability.okstate.edu online or follow the Oklahoma State University Sustainability Office on all social media platforms @OSUGreen.
---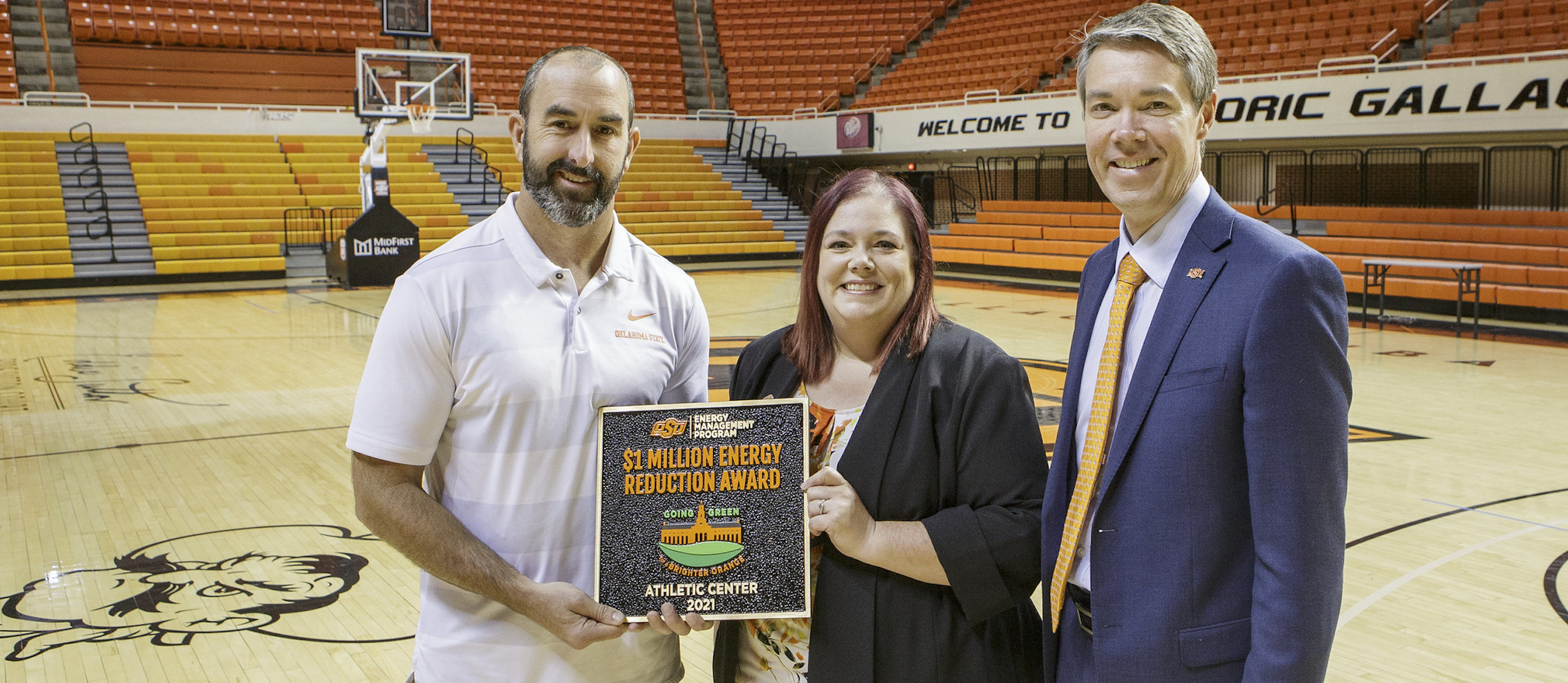 ---